Home > UAV Engines > Engine Accessories > Power Supply
Currawong offers the optional 250W power supply along with its Corvid engines.  The power supply now has an optional starter feature to enable the remote starting of the engine on the ground and during flight.  This popular feature improves operator safety and can reduce the number of personnel required in the field.
The power supply acts as a power generation and conditioning system.  The generator, which is mounted on the engine and driven by a toothed belt from the engine output shaft, produces electrical power. The power supply then takes the electrical input and converts this to the appropriate outputs as required. The generator is mounted alongside the engine rather than concentrically on the crankshaft to allow for a higher power density motor to minimise the weight of the aircraft, insulate the generator from the heat of the engine and provide much easier air cooling of the generator.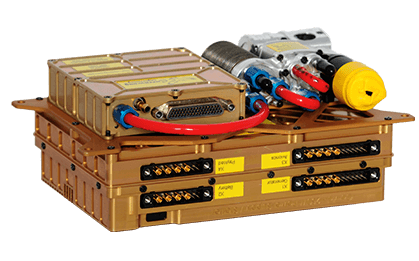 | | |
| --- | --- |
| Output: | 250W (500W intermittent duty cycle) |
| Avionics output: | 12 to 21 VDC, 7.5 A continuous, 120W max |
| Payload output: | 12 to 21 VDC, 7.5 A continuous, 120W max |
| Servo output: | 5 to 12 VDC, 10 A continuous, 120W max |
| Dimensions: | 125 x 85 x 33mm (4.9 x 3.4 x 1.3 inches) |
| Weight: | 290 grams (10.2 oz) |
Lower Level, 54 Patriarch Drive, Huntingfield TAS 7055 Australia
For US and Canadian customers, contact our distributor, Power4Flight