Power, capability and confidence
The Corvid-29 is a 29cc single cylinder engine with high power density and minimal maintenance requirements. The engine has excellent reliability and the EFI system maintains optimum engine operating parameters in all regimes of flight. This avoids common flaws of carbureted engines such as icing, top-of-climb engine stalls and incorrect fuel-air ratios. The engine has passed two 150 hour endurance tests (based on the US Federal Aviation Regulation Part 33) without the need for a major overhaul.
One of the major advantages with a Currawong engine is that it can be supplied as a turnkey system including a generator, power supply (with remote starter feature), isolation mount, low noise exhaust and standard harnesses.
The Corvid-29 engine is recommended for aircraft with a maximum takeoff weight of 25 kg.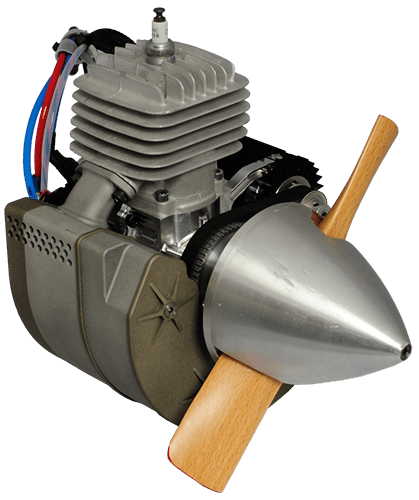 Part Number

CE859-04 / B29i (US/Canada only)

Engine Type

2-stroke Single Engine (3W-28)

Displacement

29cc

Weight

3.17kg (6.98lb)
(Engine, Generator, Low Noise Exhaust, Iso Mount, EFI, Power Supply & Harness)

Fuel Type

Fuel Consumption

500g/kW-hr (0.82 lb/HP-hr) at cruise

Power

1.8kW / 2.4HP at 9,000 RPM

Generator

250W / 500W intermittent Duty Cycle

Ignition

CDI

Cooling

Air-Cooled

TBO

350 hrs

Typical MTOW

20-25kg
*This fuel may change performance numbers of the above and is dependent on the application
CE859-04 / B29i (US/Canada only)

2-stroke Single Engine (3W-28)

3.17kg (6.98lb)
(Engine, Generator, Low Noise Exhaust, Iso Mount, EFI, Power Supply & Harness)

500g/kW-hr (0.82 lb/HP-hr) at cruise

1.8kW / 2.4HP at 9,000 RPM

250W / 500W intermittent Duty Cycle
*This fuel may change performance numbers of the above and is dependent on the application Technical Drawing Download
INCLUSIONS IN THE ENGINE PACKAGE
Base 3W-28 engine with modified crankcase

Custom induction system with manifold and throttle body

Miniature Engine Control Unit (ECU)

Self priming fuel pump

Atomising fuel injector

CDI Ignition

Manifold and Cylinder head temperature sensors

Generator

Engine Isolation Mount

Operation and service and ICD manuals
Low Noise Exhaust (as pictured)

Side Mount Exhaust

Power supply with starter
Currawong Engineering
54 Patriarch Drive, Huntingfield, Tasmania 7055
(03) 6229 1973
Email or Follow Us
admin@currawong.aero
Canada and the USA
For USA and Canada ESC customers, please contact our partner, Power4Flight