Home > UAV Engines > Corvid-50
Power, capability and confidence
The Corvid-50 engine is the second offering in the Currawong family of EFI powertrain solutions.  An upgraded version of the system was released in May 2019.
EFI ENGINE WITH CUSTOM CRANKCASE, CRANKSHAFT AND POWER SUPPLY
This engine is based on the Desert Aircraft DA-50 engine and features a custom crankcase, crankshaft, throttle body, starter generator, inlet manifold and integrated isolation mount. It comes with Currawong's robust EFI system and optional low noise exhaust.  The engine can be supplied with Currawong's power supply incorporating the remote starter feature.
The Corvid-50 engine has passed a preliminary assessment against the endurance test specified in the US Federal Aviation Regulation Part 33 (FAR33).
The Corvid-50 engine is recommended for aircraft with a maximum takeoff weight of up to around 40 kg.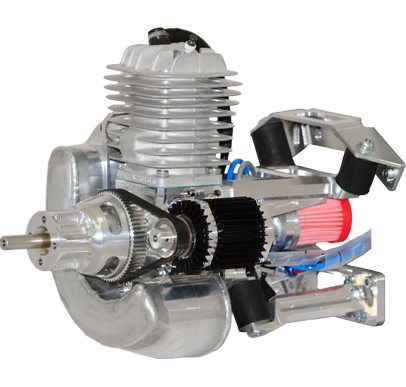 The Corvid-50 engine system includes:
Base DA-50 engine with modified crankcase
Custom induction system with manifold, isolation mount and throttle body
Miniature engine control unit (ECU)
Self priming fuel pump
Super atomising fuel injector and CDI ignition
Manifold and cylinder head temperature sensors
Generator
Low noise exhaust (optional)
Power supply with starter (optional)
Operation and service manual and ICD manual
The Corvid-50 engine is an advanced version of the DA-50 engine, with fully machined crankcase, induction system and isolation mount designed and manufactured by Currawong.
The engine comes with Currawong's mature EFI system. Over 700 Currawong's EFI systems have been used on Honeywell's T-Hawk micro air vehicle. The EFI system consists of:
Compact ECU with mature and reliable control algorithms. It includes barometric pressure sensing, a complete throttle position and pump control solution as well as UAV-specific telemetry available on both serial and CAN interfaces
High accuracy positive displacement fuel pump with outstanding self priming capability and ability to maintain pressure, even in the event of aeration of the fuel
A robust fuel injector that uses an automotive injector body with proprietary interior modifications that provide very fine atomisation
Note:
The Corvid-50 is known as the B50i engine in the US and Canada
| | |
| --- | --- |
| Engine type: | Air-cooled 2-stroke single engine (DA-50) |
| Displacement: | 50 cc |
| Weight: | 3.9 kg (8.6 lb) including generator, power supply, low noise exhaust, iso mount |
| Power output: | 2.8 kW (3.8 HP) at 7000 RPM (side mount exhaust) |
| Fuel consumption: | 500 g/kW-hr (0.82 lb/HP-hr) at 5000 RPM and 40% throttle (side mount exhaust) |
| Generator output: | 250W (500W intermittent duty cycle) |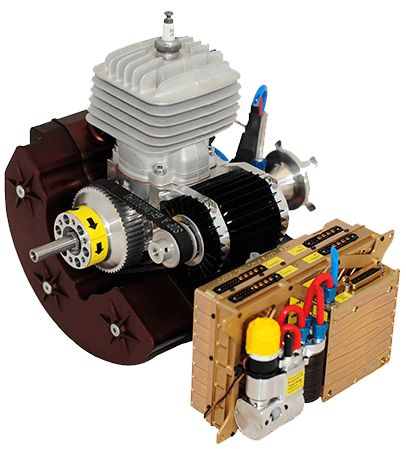 Lower Level, 54 Patriarch Drive, Huntingfield TAS 7055 Australia
For US and Canadian customers, contact our distributor, Power4Flight