Home > Servos & ESCs > ESC Velocity
unmatched power and reliability
Currawong Engineering's line of Velocity Electronic Speed Controllers (ESCs) provides high power, high reliability brushless motor control, designed specifically for aerospace / UAV power systems.
The Velocity ESC fulfills the UAV industry's pressing requirement for an aerospace grade ESC.
Currawong Engineering has designed an extremely robust device with incredible power density and extreme reliability. The Velocity ESC is supported with a high quality documentation set, and traceability for each manufactured unit.
 Download Velocity ESC Brochure
Model

Velocity HT

Velocity HC

Velocity HS

Voltage

75V / 18S

60V / 14S

60V / 14S

Current*




(Sustained/Peak)

150A / 300A

250A / 500A

150A / 300A

Power

10kW

15kW

7.5kW

Length

110mm (4.33″)

Width

60mm (2.36″)

Height

29mm (1.14″)

32mm (1.26″)

21mm (0.83″)

Weight

300g (10.58oz)

350g (12.35oz)

250g (8.82oz)

Maximum Speed

250,000 electrical RPM

Drive Frequency

5 – 75kHz

Timing Advance

0 – 25 degrees

Operating Temperature

-20C – +100C
With peak (flight tested) output power in excess of 20kW the Velocity ESC supports extremely heavy lift multi-rotor applications. High voltage operation (up to 75V / 18S) reduces current losses and allows larger motors to operate efficiently.
The Velocity ESC is well proven, having been integrated on almost every Tier-1 US heavy-lift multi-rotor platform.
Designed and manufactured in Australia, the Velocity is not subject to ITAR restrictions.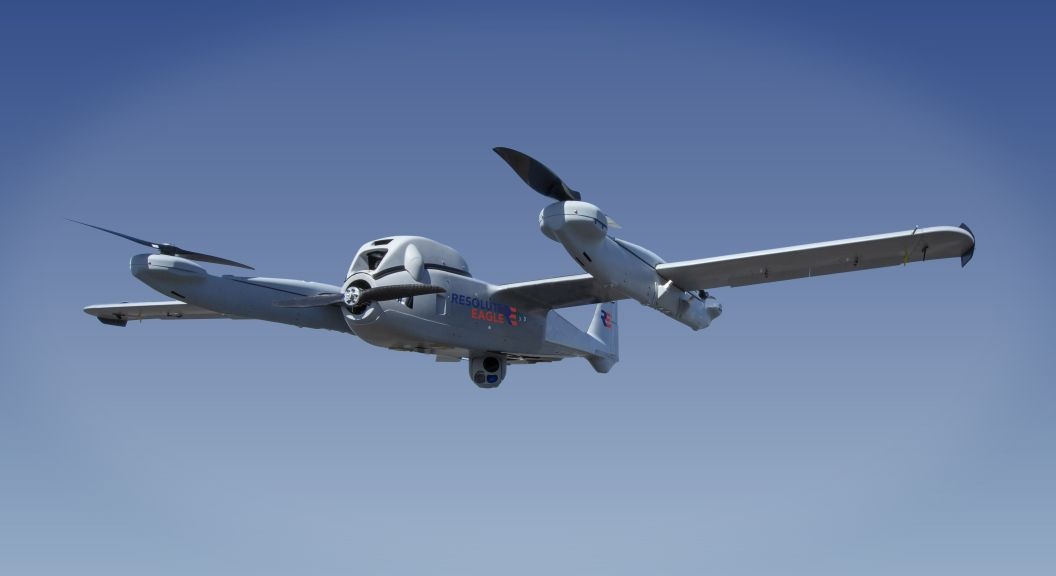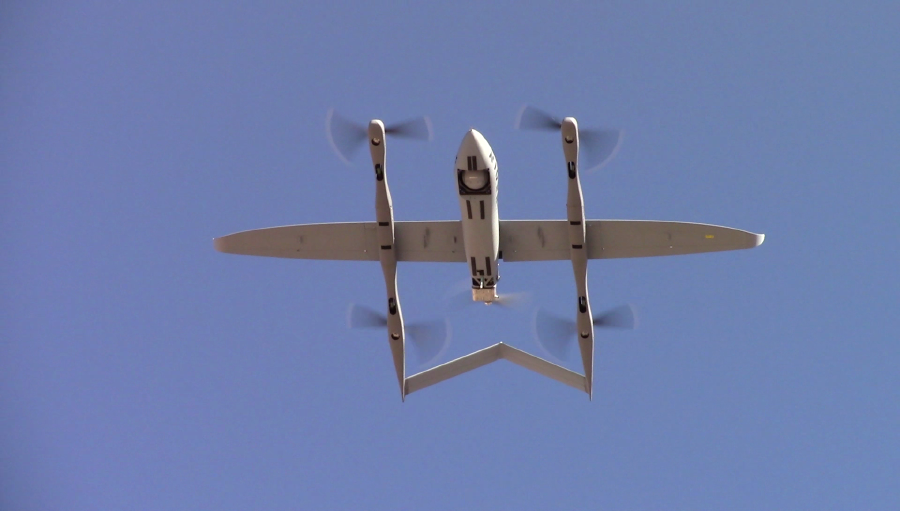 High speed glitch-free control is provided with the CAN interface to the ESC Velocity. This interface not only removes the requirement of having individual signal wires for each ESC running to the autopilot, it also allows the avionics systems to have real-time feedback on each of the motors. Real-time telemetry data including motor RPM, current, voltage, internal temperature and motor temperature (with a connected sensor). Additionally, the ESC reports a wide array of internal health monitoring data.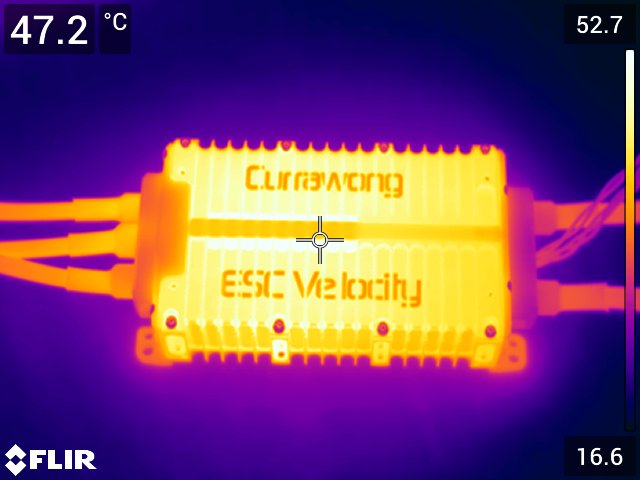 Extremely low impedance MOSFET switches with impedance matched drive circuitry means that the Velocity ESC runs cooler, operating at partial throttle or maximum load. The deduced cooling requirement results in easier airframe integration and increased flight endurance.
Repeatable motor starting is crucial for VTOL transition platforms. Multiple advanced starting algorithms run in parallel to provide high reliability starting, both on the ground and in the air.
Motor starting parameters can be precisely tuned to provide superior starting performance on motors of any size.
The Velocity ESC provides consistent RPM performance, at any speed.
A maximum electrical commutation speed of 250,000RPM is supported, with PWM drive frequency up to 75kHz
Active freewheeling (synchronous rectification) provides superior performance at partial load. The ESC runs cooler and operates efficiently across the entire range of motor operation.
The intelligent commutatoion controller reduces switching noise (EMI) and audible motor noise.
An integrated closed loop RPM controller enables tight regulation of motor speed, and automatically compensates for variations such as wind loading.
RPM commands are sent to the ESC via the CAN interface.
Integrating class-leading power electronics with a mechanical layout designed to minimize thermal impedance, the Velocity ESC provides unmatched power density.
The robustness of the power electronics allows the motor to be driven with exceptionally high transient response.
Acceleration and deceleration rates can be separate configured, allowing system bandwidth to be tuned for a given application.
Self-protection features ensure that the ESC does not operate outside the safe operating range. Configurable foldback limits (on parameters such as current, voltage ripple and temperature) allow a safe operating range to be defined for a particular setup.
Depending on requirements, the ESC can be configured to automatically adjust operation, for example to track a limiting parameter such as maximum allowable battery current.
Importantly, the safety features do not disable or stop motor operation – the motor will continue to operate in the protected or limited state.
The isolated CAN interface provides a reliable connection to a wide range of autopilots, improving signal integrity and reducing wiring requirements.
The CAN interface is galvanically isolated from the power circuitry on the ESC, ensuring that noise induced by motor transients is not reflected over the communications interface to connected systems.
The Velocity ESC incorporates a true hardware interlock system which provides guaranteed motor shutdown for improved operator safety.
The CAN interface remains operational when the interlock is active, allowing preflight checks while the ESC is safe. Interlock status (along with other status information) is reported over the CAN interface.
The CAN interface provides real-time reporting of ESC and motor telemetry data such as RPM, current, voltage and temperature. Additionally the motor temperature can be reported with an optional connector for an external motor temperature sensor.
The CAN protocol is fully documented with an ICD and SDK available from Currawong Engineering.
The ESC uses a power 32-bit microcontroller running an advanced real-time operating system. The RTOS enables high-level telemetry and safety monitoring routines to be interleaved asynchronously with high-priority motor control.
On-board data logging records motor operational data, in addition to the data being recorded in an autopilot or other external device which is monitoring CAN data.
The Velocity ESC is natively integrated with Ardupilot and Piccolo.
Integration with third party systems is simplified with provision of a fully documented ICD and SDK


The Velocity ESC provides a wide range of configuration options, allowing the ESC to be tuned to a particular motor / propeller setup.
The provided software toolkit (CEquip) allows full configuration of the ESC. CEquip also provides real-time monitoring, logging and graphing of ESC operational parameters.
The ESC reports its configuration settings over the CAN interface, allowing the operator / autopilot to validate that each connected ESC is correctly configured as part of a regular preflight checklist.
Firmware and settings checksum values can be queried from the ESC over the CAN link.
ESC settings can be saved to (or loaded from) an external file via the CEquip software.
Currawong Engineering performs extensive validation testing on firmware and hardware with a wide range of representative motors and props in a purpose-built testing facility.
Firmware is developed using a test-driven approach, with a focus on customer confidence.
Each individual ESC passes a series of rigorous acceptance tests during the commissioning process.
Unit testing of each ESC subsystem provides product confidence and ensures repeatability of the ESC. A high power calibration step is performed on each ESC before it is shipped to a customer.
Acceptance reports are provided with each delivered ESC as standard.
Currawong can provide custom cabling and harnessing solutions, allowing customers to receive ESCs pre-wired for their particular vehicle requirements.
Currawong uses NASA standard wire wrappint to ensure high mechanical reliability.
Currawong can work with customers to develop custom motor control hardware, where off-the-shelf solutions do not meet specific design requirements.
The Velocity software and hardware products are readily adaptable to the design of custom solutions.
documentation and support
Currawong provides a high level of product documentation and traceability, in addition to ongoing engineering support.
Each ESC is uniquely serialized, providing product traceability from production through to customer delivery.
Currawong supports custom order codes to ensure consistency of supply against customer configuration requirements.
Currawong Engineering has comprehensive test facilities and can assist customers with configuring and measuring the performance of the customer motor and propeller.
Currawong is able to measure motor thrust and high precision electrical performance parameters to optimize the ESC / motor / propeller combination.
Each individual ESC passes a series of rigorous acceptance tests during the commissioning process.
Unit testing of each ESC subsystem provides product confidence and ensures repeatability of the ESC. A high power calibration step is performed on each ESC before it is shipped to a customer.
Acceptance reports are provided with each delivered ESC as standard.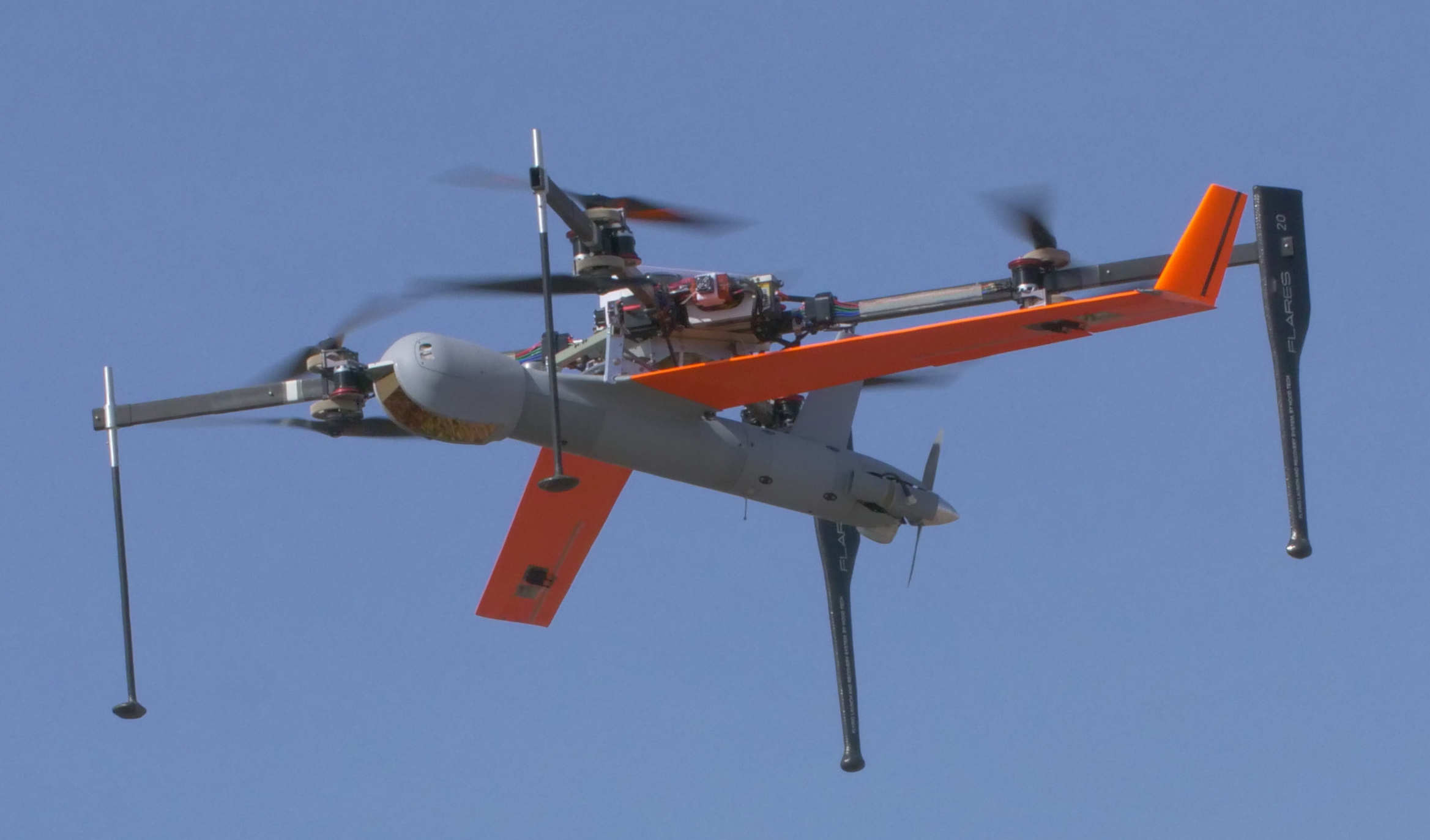 Lower Level, 54 Patriarch Drive, Huntingfield TAS 7055 Australia
For US and Canadian customers, contact our distributor, Power4Flight